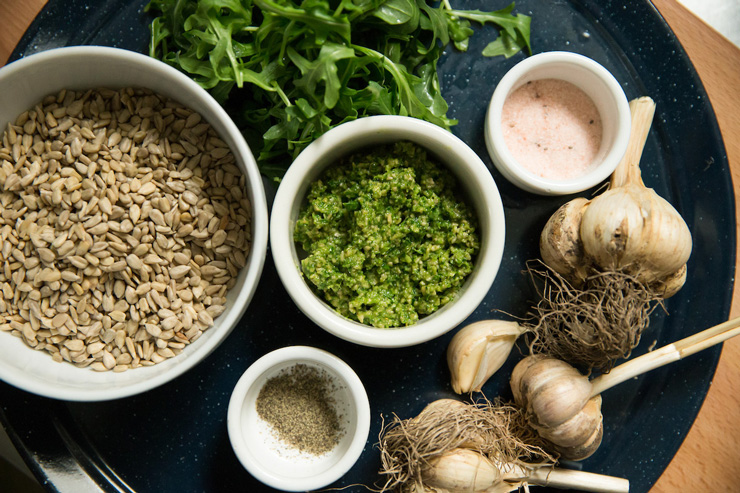 Spring inspirations and a delicious twist on traditional pesto
—
The month of February is an in-between time. Not quite yet spring and I'm trying to be patient with the last leg of winter. Although I love winter, sweaters and warm comforting food — I am ready for fresh flavors and colorful flowers.
5 things inspiring me right now:
Spring flower and bulb catalogs, especially Annie's Annuals, they are very creative and extra colorful.
Music. Right now I am listening to Willow Smith.
Chocolate. Not just for Valentine's day. I like to add a bit of cocoa to my morning coffee.
Mushrooms (I am obsessed) Shiitake's are high in B vitamins and they are a food source for vitamin D. For more info check out Fungi.com
Conifers. Anything pine scented: bath salts, soap, candles or essential oil.
Arugula & Sunflower Seed Pesto
This is a recipe for Arugula and Sunflower Seed Pesto. It is extremely versatile and a beautiful bright green color on dreary days.
Ingredients:
1 cup raw sunflower seeds
1/3 cup extra virgin olive oil
2 cups baby arugula
1/8 tsp salt
Pinch black pepper
a few leaves fresh basil (optional)
Directions:
Place all ingredients into a food processor and pulse until you have a chunky paste.
How to use it:
The pesto can be spread onto toasted baguette for an appetizer or snack.
Add a few spoonfuls to a warm bowl of polenta (Bob's Red Mill is great, follow instructions on back of package)
Add a little extra olive oil or 1/2 a stick of Earth Balance into the processor and then spoon over warm pasta.
Add 1/4 to 1/2 cup of Tofutti Sour Cream for a creamy pasta sauce or sandwich spread.
*A great variation is to use spring greens such as dandelion leaves.
---
You may also enjoy Recipe: Kefir Guacamole by Donna Schwenk