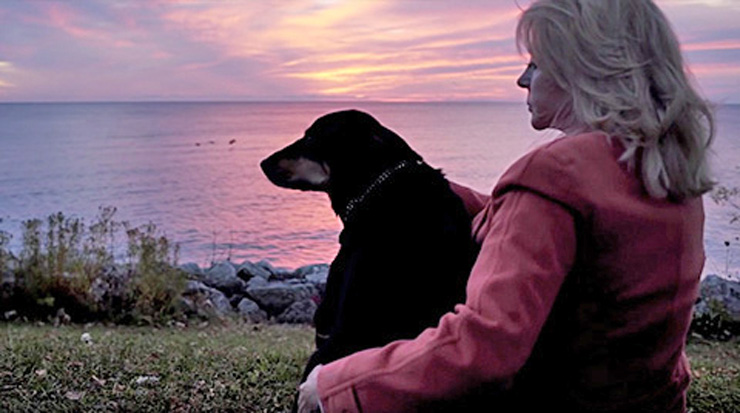 A beautiful story of how lives have been changed by the loving rescue of a badly injured, but emotionally resilient dog named Sadie
—
My job as a Transitional Organization Specialist has taught me more about acceptance of people than I could ever imagined. Little did I know that it would also teach me about acceptance of dogs with special needs.
The day started out as any other day, or so I thought. This was the day that I was taking blankets from many of my clients to the dog shelter. Why I chose this day, I will never know. But this is the day that would change my life forever.
A Heart Opens
As I arrived at the shelter, I was asked to take a stash of blankets to the back building on the property. When I was walking out, a black and tan dog that was sitting with a volunteer caught my eye, so I asked the volunteer about the dog's story. I don't know why I stopped to ask a question because I had no interest in adopting another dog. I had dogs and cats at home and after all, I was just there to donate blankets.
The volunteer told me that the dog, that they had named Sadie, had been transported from Kentucky where hikers had found her lying lifeless in the mountains. Sadie had been shot between the eyes and in the back and left for dead. If it were not for these strangers who found her and took her to a vet, this story would have a very different ending. I asked the volunteer if I could take Sadie to a vet in the area, because I am a fixer and I was determined to 'fix' Sadie by finding her a loving, happy home. After receiving permission, I loaded Sadie into my SUV and off we went.
After waiting what seemed to be forever, the vet confirmed that there was a bullet between Sadie's eyes, along with a bullet and shrapnel in her back. He suggested that I get a cart for Sadie. I couldn't believe that so little could be done to help this poor, pitiful creature who had been treated like a throw-away animal.
With tears pouring down my face, I decided to get another opinion because I usually don't take no for an answer. The second vet that we called told us to come right in, so I loaded Sadie into my SUV and off we went. As I was driving, I kept watching Sadie in my rearview mirror. The strange thing was that even though Sadie was badly injured, she wouldn't lie down; she seemed to be too absorbed in watching all of the cars passing us and the trees that were whizzing by. Her eyes were bright and alive. I couldn't understand how someone could have such a strong dislike for this beautiful dog that they tried to kill her.
In reality, Sadie was a mess. She was matted and dirty with her head hanging down, but I could see her beauty underneath it all.
I could see a vibrant, beautiful dog that had been horribly abused, crushed and maimed in the prime of life. For what purpose? Why leave a dog in this condition alone to die in the woods? Only monsters would do something so cruel.
I decided to see what I could really do to help her. So I brought Sadie in to the second vet and to my surprise, two vets met us and they both examined Sadie. The news could not have been any worse: Sadie was fecally and urinarily incontinent and she couldn't walk. They suggested that I do the kind thing and put her down. They even offered to take care of it right then.
My emotional state took the biggest dive bomb of my life and tears started pouring down my face. How could I disappoint this dog who trusted me to take her for help? How could I disappoint myself knowing that I let this dog down?
The vets left the room and said that they would give me some time to think about my decision. I thought and thought… and thought some more. When they returned, I heard myself telling them that I would take Sadie home for the night and if I changed my mind, I would call them. I thanked them as they graciously left the room and then once again, I loaded Sadie into my SUV and off we went. We were headed for home – but this time with a different mission.
A Healing Journey Begins
When we arrived, I put Sadie into my garage for the night because she was such a mess. I cleaned her up only to clean her up often during the night because of Sadie being incontinent. The next day I took Sadie to a holistic vet who said that we should give Sadie a chance. That is where Sadie's story really begins.
Sadie started on rehabilitation in earnest with acupuncture, aquapuncture, essential oils, laser therapy, and swimming. There was nothing that was going to stop me from trying to do everything I could to help Sadie, a special needs dog who needed to go on walks. The problem was that while Sadie was becoming mobile, she still couldn't walk on her own. So I bought a wagon to take her to parks and events.
It was on one of those outings that I had a light bulb moment as I approached a boy in a wheelchair who was blind and was unable to move. I moved Sadie's wagon closer to the boy. The mother put the boy's hand on Sadie to pet her and at that moment, sounds came out of the boy!
I realized that if Sadie could touch one person, that she could touch many people!
After that, I started to get together presentations for schools, libraries, and retirement communities to teach acceptance of those with special needs. Because Sadie had been bullied in the worst way, we also combined Sadie's anti-bullying message with our presentations. What a success these presentations were! Sadie was so excited to meet new people; her tail was constantly wagging with happiness!
I knew that Sadie was so special and had the ability to change lives. I also knew that if there were books about Sadie and her story she could reach more people and help more people. That was how the children's book, Sadie and the Superstars, was created to help children with different aspects of their lives. The back cover reads in part: "Life can be difficult when you are looked at as different and not accepted. Meet Sadie, the real dog that no one wanted…
"She teaches us to THINK about what we CAN do and not what we CAN'T do, just like she does."
A while later, Saving Sadie: How a Dog That No One Wanted Inspired The World, was published by Kensington of New York. After only 11 months, we were already into our 4thprinting of this teaching and acceptance book about what a small act of kindness can do.
A Life of Service… and Lessons
While it was never on my bucket list to rehab a dog, Sadie has changed my life forever. Through Sadie, I learned to look at the cars passing me and the trees whizzing by as I drove. Sadie also taught me that it is truly the little things in life that should be treasured.
Who could ever have imagined that a dog could teach a human new tricks?
As Sadie's journey started to snowball, my thinking cap was always on. We founded her non-profit to reach out to others who needed our help. Sadie's mission continues to grow; she is now known in 60 countries and across the United States. Sadie's many contributions to help others have resulted in her logo being placed on the back of a police car and ice cream being named after her. She has also received her 'Dogtorate' at University of Wisconsin, Milwaukee, she's been a bell ringer for the Salvation Army, and 'runs' many 5K races for charity. While Sadie's back legs are still not strong enough to support her, she is transported either in her Sadie wagon or her Sadie mobile.
Where there's a will, there's a way!
Although there have been disappointments along the way, they have been my disappointments and not Sadie's. I was hoping to get Sadie to run again, but in reality, that will most likely not be the case. To replicate the feeling of running fast, Sadie rides on speed boats, sleds by herself, and even rides on motorcycles. She is definitely not missing out on much in life.
She has taught me and others so many great lessons:
Look around you, absorb it all! Forget about your limitations! Go ahead and truly live your best life! How many of you are actually doing that?
I truly believe that Sadie gives little thought to her special needs. I know that I hardly see them anymore. Even though Sadie doesn't walk like a normal dog, she can do high-tens over her head, she can howl, and is a great watch dog.
Sadie makes connections to others on a daily basis, loving every moment of every day. So many children can relate to a dog better than a human, so it's not surprising that children can see through our presentations that Sadie is a living, breathing creature so worthy of kindness and love. This connection is contagious!
If anyone would have told me that taking a badly injured dog out of a shelter would have fundamentally changed my life, I would have called it a work of fiction. But Sadie and I are living the dream each and every day and we cannot wait to see what our next adventure will be.
Learn more about Sadie's story at savingsadie.com
---
You may also enjoy reading Embracing Your Beastie: Connecting To The Wisdom of Your Spirit Animal by Sarah Bamford Seidelmann