Photographer Michael Tischler Tackles the Urban Landscape With an Equal Passion for Art and Precision
—
To state that Michael Tischler, a dentist and photographer, has a dual passion would only partially portray the character and motivation behind this man. Equal parts craftsman, artist, and champion of technology, Michael leads a life of passion in every waking moment. An avid reader, seeker, student, teacher, and meditator, he sets himself a high bar for living life fully.
I am a photographer — and have been so for my entire career. Michael is my dentist. When I first entered his offices, I was struck by the beautiful, large-scale landscape photography that graced his walls. Developing an immediate bond, we proceeded to discuss the nuances of lighting and equipment, albeit with my mouth open wide and my tongue dodging the dental apparatus poking about. Nine years later, little of that scenario has changed during my routine visits, but Michael's work certainly has. It has evolved, reflecting the parallel evolution of his spirit and the technology with which he works. Michael is now exploring landscapes with more intimacy, more courage, and more risk, and it has truly been an inspiration for me on many levels.
Dentistry was in Michael's blood from an early age. The son of a beloved dentist in a hamlet of New York's Hudson Valley, Michael embraced the same career and established his own practice in the same town, synthesizing the creative influences that surrounded him with his highly sought-out expertise in his field. When he's not tending to clients, publishing, or speaking about advancements in dentistry, he is likely to be working on his photographs.
Photography's magical grasp endured the decades, having been first sparked at the age of 13, during a family road trip when his father let him play with his Kodak camera. Michael now approaches the medium with the same surgical precision as his dentistry. Indeed, to him, they feel somewhat analogous — except for the tools in hand — requiring both zen-calmness and laser-focus.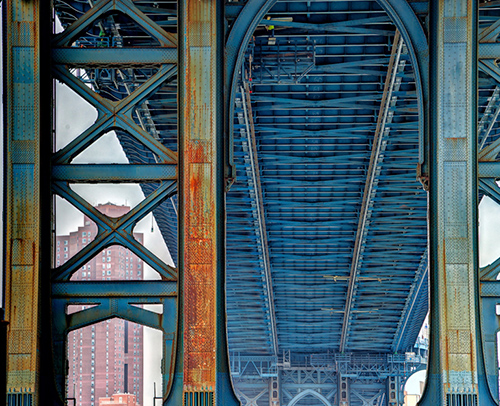 Nature provides Michael's dominant muse — his lush panoramic landscapes are fresh, artful, and technically flawless. More recently, however, he's turned his lens on the urban landscape, exploring the myriad textures that infuse his images with a sense of the surreal. He compares the ever-changing environment of Times Square to that of nature — each visit to a familiar spot brings a new experience, a new inspiration. With this next generation of work, Michael envisions a second career, selling fine-art prints through galleries and purveyors of corporate art. And given his proven ability to manifest his desires, there is little doubt his vision will be realized.
Click an image below to view the gallery:
Learn more at MichaelTischler.com
---
You may also enjoy The Wall | Exploring Urban Media Through Photography by Steve Snider