Through Kids For Peace, youth are driving a global movement of consciousness and kindness, pairing compassion with action
—
I admit: I am biased.
I have been a fan of the organization profiled this month since it was created in 2006 by a high school honors student (Danielle Gram) and a former elementary school teacher/mother of two (Jill McManigal — my sister!) who bonded at a neighborhood gathering over a peace sign button on Jill's lapel. What started organically as a small group of kids wanting to make our world a better place, has grown into an interconnected network of young peacebuilders worldwide.
Read on to see why I am so proud to showcase, what I trust you will agree, is one special organization worthy of our attention and support.
All the best,
— Joy McManigal, Youth Editor, Best Self Magazine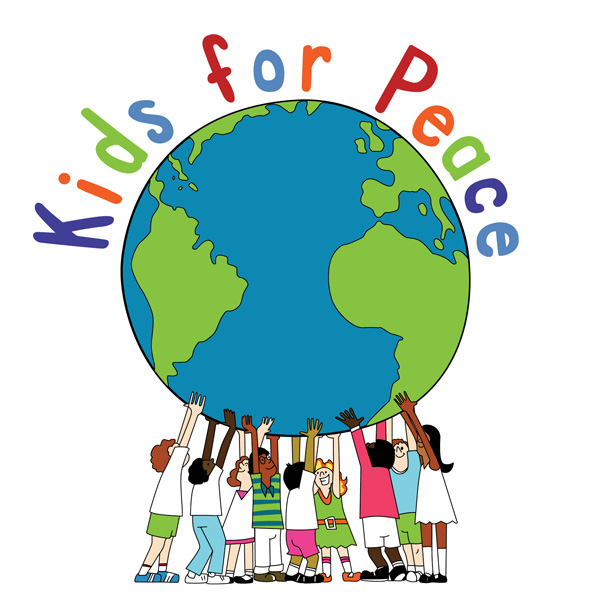 Imagine a small team of big-hearted and tenacious individuals sitting around a kitchen table working their magic to inspire 500 million acts of kindness, build schools and playgrounds in ravaged communities around the world, activate a critical mass of people to shift global consciousness, while overseeing 450 chapters in 121 countries on 6 continents. And did I mention that they also managed to break a Guinness Book of World Record? Phew!
This is the world of Kids for Peace, a global 501(c)(3) nonprofit organization based in Carlsbad, California. In true grassroots fashion, all this amazing work is done by mostly volunteers who share one unifying goal: to uplift our world through love and action.
Kids for Peace programs and events provide a platform for young people to create peace through youth leadership, community service, arts, environmental stewardship, global friendships, and thoughtful acts of kindness. By sparking the innate talents, dreams, and passions of young people, Kids for Peace serves as a model and inspiration for creating this reality, not only for today, but for the generations to come.
At the heart of all Kids for Peace activities is their kid-created Peace Pledge:
I pledge to use my words to speak in a kind way.
I pledge to help others as I go throughout my day.
I pledge to care for our earth with my healing heart and hands.
I pledge to respect people in each and every land.
I pledge to join together as we unite the big and small.
I pledge to do my part to create PEACE for one and all.
What's not to love about all that?!
The signature program of Kids for Peace is The Great Kindness Challenge (TGKC) — a grassroots movement to cultivate kindness in our schools, families, communities, and world with a motto that says it all: KINDNESS MATTERS (because it does!)
Working with schools and Kids for Peace chapters around the world, TGKC is a positive and proactive bullying prevention initiative for Pre K-12 schools. At the heart of week-long program is the belief that kindness is a strength that creates a win/win dynamic for both the giver and the receiver. By providing a checklist of suggested acts of kindness, students have the opportunity to repeat kind act after kind act.
As kindness becomes a habit, peace becomes possible.
How this uplifting program came to be can be traced back to 2011 when the elementary school that Jill's children attended asked her to help create a more positive, unified, and respectful school environment. As a result, TGKC was designed and piloted with three Carlsbad, California schools. Because of their innovative approach and wildly successful results, word spread — and a kindness movement was born.
Last year, 10 million students performed 500 million acts of kindness in 100 countries. This year, 13 million students in 24,000 schools in 113 countries inspired over 650 million acts of kindness. Pretty impressive numbers for a group that still works around a kitchen table! ABC's Good Morning America thought so, which is why they have repeatedly showcased The Great Kindness Challenge.
Another impressive Kids for Peace undertaking is the Kind Coins Campaign — a service initiative to empower youth to become global citizens and compassionate philanthropists. Working with Kids for Peace chapters and schools, coins are collected to help build schools and playgrounds for communities in need.
To date, the campaigns include:
Kinds Coins for Kenya — 148 U.S. schools raised $80,000 to build a Kids for Peace school in the remote village of Mikei, Kenya. Several groups of Kids for Peace volunteers have also traveled to Kenya to build the school and an infirmary, as well as replenish supplies and make new friends.
Kind Coins for Pakistan — Money was raised from 157 schools to build a new school and peace center in Loralai, Pakistan.
Kind Coins for Liberia — Money is currently being raised to help build a health clinic in Paynesville, Liberia, a village devastated by the Ebola crisis.
Kind Coins for Disaster Relief — 80,000+ students from 200+ schools raised money to build 4 new playgrounds at schools in hurricane-impacted communities in Texas, Puerto Rico, and Florida, with one more to be built in Paradise, California. Hasbro, Inc., through its BE FEARLESS BE KIND philanthropic initiative, matched $100,000 of the funds raised, a reminder that everybody has a role to play in creating a kinder world.
Kind Cards for Paradise — $13,535 was recently raised to help an elementary school in Paradise, California recover from the fires that destroyed their community.
Inspired by social media's power for good, Kids for Peace sponsored #DoItForPeace — an online experiment to shift global consciousness. The premise is simple: start with a group of 1,000 ignitors who do one act of peace and then share it on social media, inviting 5 friends to do the same. The scope and impact of this week-long viral movement is still being felt worldwide. Some people posted peace sign selfies, but some people chose to go big (check out the surfboard peace sign and first ever free-fall skydive peace sign!).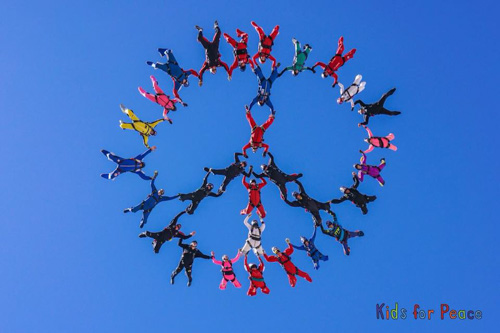 A Kids for Peace event that always brings smiles to those lucky enough to attend is the annual party to celebrate a Peace Hero — a well-recognized role model who lives by the words of the Peace Pledge and inspires people to be their best self. Chosen by the Kids for Peace chapters, Peace Hero honorees include: Jason Mraz, Ellen DeGeneres, Stedman Graham, Ben Harper, Susan Sarandon, Tony Hawk, Rob Machado, Frances Fisher, RJ Palacio, and Jane Goodall.
Taking the message of peace on the road is another way Kids for Peace spreads the love. Every couple of years, Kids for Peace organizes a Peace Pledge Tour — a chance for youth from across the globe to join together for an inspiring trip focused on leadership training, community service, and peace-building activities. Past tours included trips to New York City, Washington DC, and Kansas.
Last year, an intrepid group of kids and adults went on The Kindness Matters Bus Tour — a coast-to-coast event that kicked off in New York City at Times Square before traveling to Philadelphia, Washington DC, North Carolina, Georgia, Louisiana, Texas, and finally wrapping up in California. Along the way, the volunteers spread smiles as they performed 50 acts of kindness while riding in style in their snazzy bus.
Impressed yet? Well there's more!
Kids for Peace has interviewed celebrities on the Red Carpet at the Emmy's, published 4 books written and illustrated by youth from around the world, and hand-delivered over 10,000 Peace Packs filled with school supplies to children in need.
They are also included in the Guinness Book of World Records for creating the largest collage of cut-out handprints. This galvanizing action occurred during the 2015 Great Kindness Challenge when over 180,000 students each decorated one handprint to symbolize their commitment to kindness. Together, they created 104,108 kind-hearted handprints to brighten the spirits of patients and their families at the Dignity Health Glendale Memorial Hospital in California. A world record was broken with an inspirational and creative act of kindness — another wonderful example of Kids for Peace in action.
So, the next time you start to lose faith in the future, think about Kids for Peace and all the amazing ways young people are uplifting our world through love and action… and heartfelt acts of kindness.
—
For more information, please visit kidsforpeaceglobal.org | thegreatkindnesschallenge.com
---
You may also enjoy reading The C4 Way: Empowering Youth To Be Their Best Selves by Joy McManigal