How an unlikely love story with a feral cat left one woman questioning, who is actually protecting whom?
—
INTRO
*Diana Ventimiglia, Editor of The Karma of Cats, steps from behind her editing desk and shares some of her own feline friend musings as an introduction to Kelly McGonigal's article, below.
As the owner of a 17lb. tuxedo cat, I knew I'd love working on The Karma of Cats: Spiritual Wisdom from Our Feline Friends, but editing this book has turned out to be one of the most fun and insightful experiences I've had in a while. As any cat owner, I've learned to cultivate patience (I'm looking at that coffee mug you knocked over, Phillip), as well as acceptance that I won't always get the cuddles I want. The love I have for my cat runs deep, and I've always cherished the ways he's enhanced my life. Editing this collection of essays, though, has helped me realize just how profound my connection to my cat is and has given me a newfound respect for all that Phillip teaches me.
In many ways, Phillip exemplifies much of how I'd like to live my life… he doesn't care what others think of him, he expresses himself fully unafraid of judgment, he's focused, determined and resilient. All of these essays crack open such lessons and celebrate the very unique bonds we have with our feline friends. They're honest, sometimes funny, and extremely heartfelt. I encourage anyone who has a cat, or just has a love of pets, to read The Karma of Cats. You'll be sure to laugh, cry, and walk away eager to hug your furry friend.
—
Adopted: An Unlikely Love Story With A Feral Cat
By Kelly McGonigal
[Excerpted from The Karma of Cats (Sounds True, 2019)]
In 2005, I was twenty-eight years old, living alone in San Francisco, and looking for a new apartment. I had finished graduate school the year before, and was working as a freelance writer and editor while teaching yoga at studios around the Bay Area. During my hunt, I read a book by the artist SARK, in which she describes stumbling upon a sign in San Francisco in 1989 advertising a magic cottage for rent. As I visited one dismal apartment after another, each more depressing than the last, I lamented, Where was my magic cottage? One day, desperate, I wandered the streets of San Francisco, looking at flyers stapled to telephone poles, hoping for a SARK-like miracle. That very evening, when I got home, I found a new post on Craigslist advertising "Magical Cottage for Rent!" I made an appointment and met the landlady the next day, bringing with me my checkbook and credit report.
Behind the cottage was a private garden, complete with a three-foot-tall Laughing Buddha statue. The statue was a bigger version of the very same buddha I had kept in the small garden plot I had tended when I was a graduate student. The landlady assured me that the buddha came with the apartment, despite not knowing which tenant had left it or how long it had been there. It was a sign, I thought. This was my magic cottage. As I signed the lease and wrote a check for the first and last month's rent, a small, short-haired black cat appeared outside the sliding-glass door to the garden. The cat sat at the door and stared at us with yellow-green, slightly crossed eyes. "Who's that?" I asked, surprised and charmed. "Oh, don't worry about that stray cat," the landlady said. "I'm sure if you ignore it, it will go away."
It didn't go away. As I discovered, my garden was the epicenter of a feral cat colony. The person who had lived in the cottage before me had fed the cats on a semiregular basis. A neighbor who had indoor cats would also occasionally leave out a can of food for the feral cats. Although I had moved in with my own indoor rescue cat, I gladly stepped into the role of colony caregiver. I named the regular cats Shadow, Tinkerbell, Mouse Patrol, and Princess.
But it was that very first cat I met at the cottage — the one who stared at me through the glass door with crossed eyes — who I fell in love with.
I named him Itsy-Bitsy. He was smaller than the other cats. Skinny, but not starved. He was all black except for a tuft of white fur over his heart. He was the spitting image of the cat in a framed photograph I had bought at IKEA a few months earlier. (Later on, I think there was something magical about that timing — that I had bought the photo so I would recognize Itsy-Bitsy when he appeared.)
Itsy-Bitsy's left ear was clipped, evidence he had been trapped by a rescue organization, neutered, and returned outdoors because he was deemed too wild to be adopted. I should have taken that clipped ear as a sign that Itsy-Bitsy would break my heart. But I fell hard.
Within weeks of my moving in, Itsy-Bitsy would knock at my kitchen window every morning and evening to be petted and fed. He liked to lie outside whatever window I was closest to, moving around the perimeter of the cottage as I moved about. When I went outside, he would run up to have his chin scratched or lie down to have his belly rubbed. He loved to play, and I could make him jump and dance by dragging a stick across the ground. He learned his new name quickly. All I had to do was step outside and call, "Itsy-Bitsy!" and he would come running from whatever hill or nearby yard he had been in. Soon he was waiting for me on the fence outside my front door when I came home after dark.
My neighbor would sometimes feed him, thinking he was hungry. But Itsy-Bitsy would stay on the fence until I got home, even if he was fed.
Of course, I wanted to turn this feral cat into a pet, but Itsy-Bitsy was terrified of being in a closed space. Anytime I tried to bring him inside, he ran out. If I closed the door, he howled until he was free again — it was as if I were torturing him. Maybe some traumatic experience being trapped had imprinted this wild response in him. Even outdoors, he had his limits. Although he eagerly presented himself to be petted and rolled on the ground like he was in nirvana as I rubbed his belly, if I tried to pick him up, he became like a fish on a hook. He squirmed and flailed in that way that cats who refuse to be picked up do, until he exploded out of my arms and landed on his feet.
Six months into my stay at the cottage, rainy season came to San Francisco. That year, the jet stream carried storm after storm across the Pacific Ocean from Japan. When it rained, Itsy-Bitsy refused to take shelter. Instead, he sat outside my kitchen window, getting drenched and looking in. I researched online how to build a weather shelter for outdoor cats. My boyfriend, a graduate student living in Seattle, helped me construct a tent out of a blue tarp. We put it outside the kitchen window, under a wooden staircase to the roof of the main house. I hoped Itsy-Bitsy would take refuge in the tent. He wasn't interested. Whenever it rained, Itsy-Bitsy appeared outside my kitchen window, where there was no shelter whatsoever.
I discovered that if I opened the window and sat on the kitchen floor, Itsy-Bitsy would hop onto the ledge and let me dry him off with a warm towel. He would stay there as long as I did, but if I tried to close the window to keep out the rain, he would panic and bolt. If I left the kitchen floor to do anything else, he would go back into the pouring rain. I spent a lot of time that rainy season on my kitchen floor with the window open. Sometimes I would read a book and drink chai tea while Itsy-Bitsy rested. Sometimes we just sat, and I would pet him, listening to the rain.
One morning Itsy-Bitsy showed up at my kitchen window with a huge, bleeding gash on the side of his head. I cleaned the wound as best I could. He didn't resist. The wound looked too large to have come from another cat's claws. Had Itsy-Bitsy gotten into a scrap with a raccoon or a dog? Had he escaped a hawk or coyote? According to the Society for the Prevention of Cruelty to Animals, the average life span of a feral cat in San Francisco is only five years. I tried again and again to get Itsy-Bitsy to come inside.
I wanted to protect him from the rain, the predators, and all the other dangers of being a feral cat. I wanted to rescue him, but I never was able to make Itsy-Bitsy an indoor cat.
When my lease expired, I moved back to Palo Alto. I had accepted a full-time teaching position in the psychology department at Stanford University, and the commute to campus from my magical cottage involved three trains and a twenty-minute walk on either end. Sometimes, with train delays, it took three hours each way. I couldn't stay in the cottage, and I couldn't take Itsy-Bitsy with me. Of course I wanted to. But I knew the outdoors was his home.
I arranged to have the woman who lived next door take over feeding Itsy-Bitsy. We practiced before I moved. I made sure Itsy-Bitsy knew where his food would be from now on. I left a bag of dry food with my neighbor and said a tearful goodbye.
A year after I moved out, the woman who took over feeding Itsy-Bitsy emailed me to let me know he was okay. I was so relieved. But she also wrote, "For quite a while, Itsy-Bitsy sat out on the fence by your door waiting for you to come home at night." When I read those words, I cried. I was heartbroken. I took it as proof that I had abandoned Itsy-Bitsy. The image of him waiting for me on the fence felt like evidence that I was the kind of person who let others down.
For a long time, I grieved over my failure to rescue Itsy-Bitsy.
I'm almost embarrassed to admit how much shame I felt over not being able to turn him into an indoor cat. I carried it with me for years.
As I was writing this essay, I talked with my husband about my guilt over not being able to protect Itsy-Bitsy. He listened patiently, then said, "You know, I never really thought Itsy-Bitsy needed protecting." He reminded me of the time a raccoon had snuck up behind Itsy-Bitsy while he was eating from his bowl outside my kitchen window. Itsy-Bitsy turned around, hissed once, and returned to his kibble. The raccoon retreated. By all outward appearances, Itsy-Bitsy was the least vulnerable cat in the colony. Not skittish and hypervigilant like Tinkerbell. Not wary and always hiding in the bushes like Shadow. Not slinking around corners, belly close to the ground, like Princess. Itsy-Bitsy was fearless, confident, healthy, and happy.
"Maybe Itsy-Bitsy was protecting you," my husband mused.
I scoffed at this suggestion when he made it. But later, as I thought more about that year in the cottage, his comment rattled around my brain. My whole life, I've found it easier to offer compassion than to receive it. To be the one helping, not the one who needs help. It is hard for me to recognize when someone cares about me.
In many aspects of my life, I have been like a feral cat wriggling out of an embrace.
I remembered something Itsy-Bitsy did after I'd been feeding him for a few weeks. In between meals, I left his food bowl outside the kitchen window alongside a bowl of fresh water. One morning I woke up to find a dead mouse in the otherwise empty food bowl. At the time, I thought Itsy-Bitsy was telling me I wasn't feeding him enough. I assumed the mouse was a friendly nudge to keep the bowl full. Later, when I got more involved in animal rescue, I learned that leaving dead rodents can be a form of caregiving. It's unlikely Itsy-Bitsy was scolding me for not providing for him. He might have been worried I wasn't a strong enough hunter to feed myself. It's possible he was sharing his bounty to make sure I didn't go hungry. In researching this essay, I read an interview with a cat behaviorist who said that a fresh corpse is how a cat lets you know that you are family. In leaving me the mouse, Itsy-Bitsy might have been saying, "I'm adopting you."
If the dead mouse was an act of caregiving, not a complaint, what other behaviors might I have misunderstood? When Itsy-Bitsy waited up for me, sitting on the fence in the dark, was he waiting for dinner — or did he want to make sure I got home safely? When he appeared, on command, anytime I called "Itsy-Bitsy," was he responding to the possibility of food or play? Or did he think I needed him? Why did Itsy-Bitsy show up at my window every time it rained? I thought I was protecting Itsy-Bitsy. But maybe Itsy-Bitsy was checking on me. Maybe he didn't want to leave until the rain stopped because he was keeping me company.
I know, it's ridiculous to try to read the mind of a feral cat.
I don't take any of these interpretations too seriously. But just considering them has broken open something inside of me.
My mind reels thinking that I might have been the recipient of a cat's caregiving instinct — that the universe sent me the cottage not because the colony needed a caregiver, but because I needed a cat colony.
Now I look back at that year with wonder. How my "magical" cottage appeared, like magic, on Craigslist the very day I wished for it. How the tiny black cat from my framed IKEA photo appeared, like destiny, at the cottage door. How at a time I was living alone and struggling to find my place in the world, the universe gave me cats who needed to be fed every day. It was a purpose that filled some deep need in my soul. Never in my entire life have I felt as absolutely necessary as when I sat on the kitchen floor, in the rain, with Itsy-Bitsy purring. In those moments, I could not doubt that I was exactly where I was supposed to be. I always thought Itsy-Bitsy needed me, but the truth is I needed Itsy-Bitsy. Sixteen years ago, I could only see the year with Itsy-Bitsy one way: I had failed. I was an unworthy guardian. Now I wonder who was guarding whom.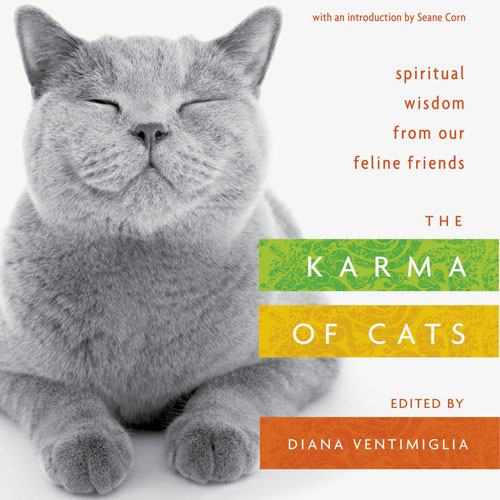 ---
You may also enjoy reading Soul Dog: A Journey into the Spiritual Life of Animals by Elena Mannes