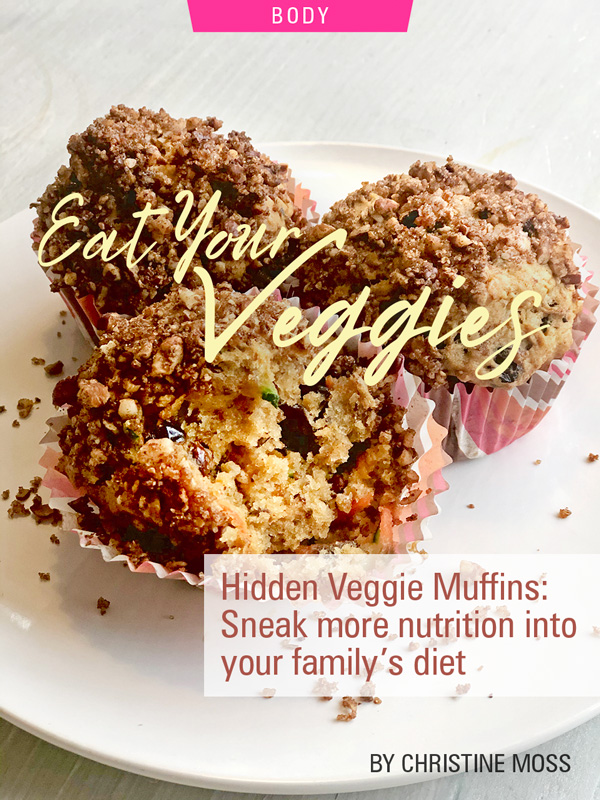 From the kitchen of Chef Moss — a delicious and inspiring recipe to incorporate more veggies into your family's diet (even if you have to hide them)
—
I made what I like to call, 'Hidden Veggie' muffins over the holidays to an attempt to get more vegetables into my family's diet. My parents more specifically.
Getting my kids to eat and enjoy vegetables has been a challenge throughout life as a mom.
I have had to come up with countless resourceful and creative ways of incorporating vegetables into various food forms.
Smoothies, pancakes, casseroles, pasta sauces, sandwich mixes, you name it. If I could disguise a vegetable I did it!
As they grew older, though they caught on to my ways, the complex flavors had already became a part of their palate and I didn't have to hide the veggies as much anymore. I'm even happy to report that now that they are in college, they have their own ways of staying healthy and finding balance.
But ironically now, the tables have turned and I am trying to get more vegetables into my parents. And surprisingly, this is an even greater struggle than with my kids. They are set in their ways and who am I to tell them how to eat? They have lived this long eating the way they do, but they are my parents and I love them and I want to see them thrive, not just simply do as they always have.
I may be beating my head against a wall (life lesson: you can only really help when help is actually wanted), but I am stubborn like they are and this past Christmas I brought them a fresh batch of muffins; my hidden veggie muffins! And to my surprise and relief, my parents really loved them in spite of the vegetable content.
And so maybe you are already aboard the veggie train, and I don't have to hard sell you on these hidden vegetable tricks. But maybe someone you love needs a few extra veggies in their life or their lunchbox — or maybe you just want some more. So, I'm here to help and keep the creative veggie juices flowin'!
Eat the muffins with some peanut or almond butter for added protein and fat to feel satiated for a longer time.
The following vegetables in combination create a pretty powerful snack or breakfast on the go.
Sweet potatoes are an amazing vegetable that can be incorporated into many different dishes. If you are baking or boiling some for dinner, add one more to the pot to save for later for these muffins. Sweet potatoes are great all on their own, and with a minimal amount of maple syrup they can be mashed and put into a pie crust. Add them to your mac and 'cheese' sauce or pancake batter. Sweet potatoes are loaded with fiber, vitamins A and C and trace minerals. They are one of winter's power foods to keep you going. You can also substitute some roasted butternut squash or pumpkin too.
Zucchini is also loaded with vitamins and minerals, and can possibly help control blood sugar levels for those with type two diabetes. Shredded they can also be added to pancake mix and to fillings for stuffed peppers or mushrooms, or into your smoothie.
Carrots have lots of beta carotene, potassium and fiber, along with vitamin A and B6. When shredded on the smallest holes of your box grater, they are easily mixed into batters for cakes, fritters or un-tuna salad (crumbled tofu, vegan mayonnaise, a splash of Ume plum vinegar, finely diced onion and celery and some finely grated carrot).
Have fun experimenting and substituting with different vegetables in these muffins. That is part of the joy of cooking, seeing what works, and what doesn't work is also a valuable lesson. Become your own alchemist in the kitchen. Starting with flavors you already know and love, add new ingredients to trusted recipes and expand your flavor palette one new veggie at a time.
And remember, good food is medicine — but it doesn't mean you have to spend all day in the kitchen or that you have to compromise good taste. It's actually quite the opposite. So cheers to our veggies and our creativity in the kitchen. Your Best Self will be doing a happy, healthy dance!
(Makes 12 muffins)
Ingredients:
2 cups All Purpose Flour
½ cup rolled oats or plain granola
¼ cup brown sugar
1 tsp baking soda
½ tsp baking powder
½ tsp salt
½ tsp cinnamon
1 flax egg (1 TBSP ground flax meal plus 3 TBSP water mixed together, set aside)
1 cup peeled and shredded carrots
1 cup unpeeled and shredded zucchini
½ cup cooked and mashed sweet potato
1 cup dried cranberries
¼ cup maple syrup
½ cup safflower oil
½ cup coconut milk
Topping Ingredients:
½ cup raw pecans
¼ cup brown sugar
½ tsp ground cinnamon
Directions:
Preheat oven to 350F and prepare a 12 muffin pan with muffin liners.
Make the topping by pulsing the raw pecans in a food processor or blender until very fine and crumbly.
Pour into a bowl and mix evenly with the ¼ cup of brown sugar and ½ tsp cinnamon and set aside.
In a large mixing bowl, whisk together the dry ingredients, flour, oats, brown sugar, baking soda, baking powder, salt and cinnamon.
In a small bowl, mix together the 'flax egg' (1 TBSP ground flax meal plus 3 TBSP water mixed together) and set aside.
In another mixing bowl, mix together the wet ingredients; shredded carrots, zucchini, mashed sweet potato, dried cranberries, maple syrup, safflower oil and coconut milk.
Add the flax egg to the wet ingredients bowl and mix together well.
Pour the wet ingredients into the dry ingredients and mix together only until all of the flour has been moistened. Do not over mix. The batter will be very thick and heavy.
Divide the batter evenly into the 12 muffin liners.
Sprinkle the pecan topping on top of each muffin, press it into the batter very lightly.
Bake the muffins for 30-35 minutes. Check on them about halfway through and rotate the pan if necessary. Test for doneness with a toothpick.
Serve and enjoy!
---
You may also enjoy eating Vegan Chocolate Chip Cookies & Walnut Milk by Christine Moss