Wandering the streets of Tangier for an afternoon, Chef Christine Moss soaks up new sights, flavors — and brings home some recipes and life musings
_
Soaking up the sights, smells and senses — Chef Christine Moss wanders the streets of Tangier for an afternoon and brings home some recipes and ideas about life
Sometimes a day trip is just enough of a taste of adventure to satiate your wanderlust. But sometimes, a day is simply not enough. I found this out the hard way. When planning my recent trip to Spain, there was so much I wanted to see and taste and experience including a side trip to Tangier, Morocco. So close; only an hour-long ferry ride away from the small Spanish town of Tarifa. How could I not try to experience more than one continent?
A good friend of mine tried to warn me that one day in Tangier would not be enough — and boy he was right! But that didn't stop me.
I caught the bus from Seville to Tarifa, a three-hour ride and strolled the 10 block distance to my hostel in the old part of town. The guidebooks all read that Tarifa is good for windsurfing and catching the ferry to Morocco and not much else, but I found that to be untrue. Note to self: You can't believe everything you read in guidebooks.
Tarifa is an amazing, beautiful white pueblo on the coast filled with the friendliest people. Art galleries and restaurants are everywhere you look. Suffice it to say, I could have spent weeks there.
The next morning I caught the early ferry to Tangier. Once again, the guidebooks all warned to watch out for people sweeping you up to take you on tours of the city — all looking for money. While wandering the narrow cobblestone streets, camera in hand, I felt very comfortable and welcomed. Making eye contact, saying Bonjour and Good Morning actually put me at ease. People were very friendly and I found those offering tours to be very respectful.
I think my experience as a single female traveler of color helped me blend in a little. Besides, I'm a native New Yorker. We're born with a certain amount of street savvy. That is until I tried to speak.
Most people speak Arabic and French, maybe Spanish and a very little bit of English. My Spanish is pretty good and I can understand some French when spoken to me slowly.
I had one moment of conversation with a gentleman who kept apologizing for his bad English. I apologized for not knowing any Arabic, I asked him how to say thank you. "Shukraan" he replied.
If people are wandering around searching for tourists it is because this may be their only income to support their families. When we are kind, it goes a long way. When we open our minds and hearts to see things differently, we soften. And I certainly didn't travel across the globe to isolate myself. One of the most delicious parts of travel for me is the adventure of meeting and connecting with new people.
One of the first places I noticed (probably because it smelled so good) was a small stand in a doorway selling warm flakey m'smen, a large and layered flatbread sold by the slice and spread with your choice of butter, marmalade, a soft white cheese or Nutella. As they say, When in Rome…I ordered a piece and chose the butter and marmalade.
He folded the bread over itself a few times before wrapping it up in foil. At that point, I hadn't quite figured out how the money worked. I couldn't convert Dirhams into Euros or dollars in my head. Maybe it was the heat, which was in the 90's at 10 am, but I just surrendered and held my hand full of money and asked the man behind the counter for help in a mixture of Spanish, French and English.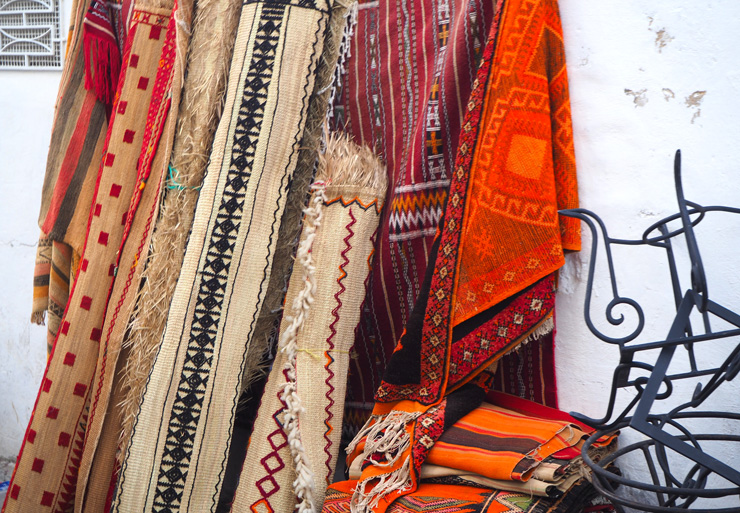 He took a few coins and then gave me others back as change. I used the same approach in a little place next door when purchasing an Orangina soda. I could hear him comment to his friend, "American" and so I smiled and said "Yes, American. Shukraan" He then smiled that I knew the Arabic word for 'thank you' and said "la shukran ʿla wazhb" or 'you're welcome'.
The m'smen was the most delicious bread I have ever eaten.
The flavors were a combination of a lavash and crepes, that filled me for the rest of my day there. In retrospect I could have saved some for later in order to enjoy more things, but at the time I simply couldn't stop eating it.
I purchased a ticket for a tour bus to see the Caves of Hercules and Cap Spartel, a lighthouse located where the Atlantic Ocean meets the Mediterranean. These sites are located a few miles outside of the city allowing me to see parts of Tangier and the coastline that I would have never have experienced just walking around. While, I'm glad I went, it did take up much of the day.
The mountains were full of mist and eucalyptus trees. In a field there was a group of children throwing rocks at cars who ran away when the bus driver yelled at them out the window. There were tents set up here and there along the beach with campfires. The sand was a beautiful brick red color, the water turquoise blue and the sea foam from the crashing waves, pure white. The air was fresh and green and I kept saying to myself over and over, I am in Africa, I am in Africa to firmly ground it my memories.
Once back outside the old city walls, I wandered within again and sat at an outdoor cafe. I ordered a hot mint tea and watched the daily life of this particular street as it happened by. There were cats and tourists, delivery trucks, bicycles and motorbikes. There were young girls in headscarves, blue jeans and fuzzy slippers carrying plates covered by plastic bags to the local oven around the corner.
The glass of mint tea was so hot that I couldn't even touch it. So I sat and waited and watched and relaxed. I breathed into that moment and savored it.
People at the next tables made conversation with me, "Where are you from, how do you like it here?" I turned down the chance to purchase a watch. Finally, I used my own scarf to pick up the glass and sip some tea. Very sweet and very hot, it was exactly what my body needed. I felt immediately recharged and full of energy for the return ferry trip back to Spain.
One day in Tangier was definitely not enough — or perhaps it was…because in one day, I fell in love with the people, the land, the air and the ocean.
I will return for more than a day, to be sure. Stay tuned. In the meantime here is a recipe for m'smen to make at home. And while you are at it, enjoy with some super hot mint tea to accompany it. It is a great reminder to take pause, to savor the seemingly small moments that, strung together, provide a scrapbook of memories.
---
You may also enjoy other articles and recipes from Chef Christine Moss on her Author Page.