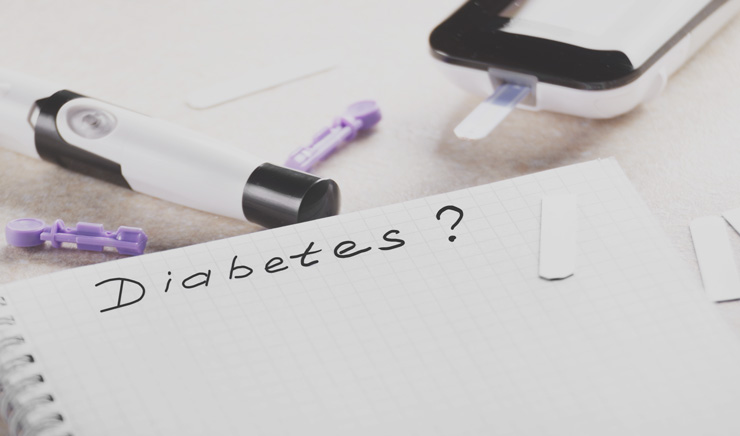 Diabetes is one of the most common chronic diseases and often goes undiagnosed; know the symptoms and what you can do to minimize your risk
—
Imagine having one of the most common chronic diseases in the nation without being aware of it. As it stands, that's the reality for 1 in 5 of the 34 million Americans with diabetes. As a leading cause of death and disability in the U.S., diabetes can result in serious health complications if left untreated. However, because of the subtle and slow onset of diabetes, many individuals experience and endure symptoms for sometimes ten or more years before receiving an accurate diabetes diagnosis.
While the condition is treatable and also largely preventable, the fact remains that over 7 million people are currently living with undiagnosed Type 1 or Type 2 diabetes. Here's why:
1. Understated Symptoms
The main reason diabetes often goes undiagnosed is undoubtedly due to the slow and subtle nature of its symptoms. According to endocrinologist, Dr. James Dudl, "Diabetes usually progresses over a 7-10 year period before the sugar is so high it can be felt by noticing its symptoms."
Because symptoms can be drawn out over several years, it can be difficult to notice a difference or even recognize how badly you may be experiencing some of these typical symptoms of diabetes:
severe thirst
frequent urination
extreme fatigue
Irritability
increased appetite
blurry vision
yeast infections
weight loss despite eating more (Type 1)
tingling, pain, or numbness in the hands/feet (Type 2)
2. Overlapping Signs and Symptoms
Symptoms of diabetes can overlap with signs and symptoms of other health conditions. For example, patients with untreated diabetes may also experience symptoms of low blood sugar. These symptoms include feeling sweaty, jitters, a sense of doom, and light-headedness which are vastly different from the common symptoms of diabetes. This can make it difficult to get a proper diagnosis without adequate medical screening.
Additionally, diabetes can often go undiagnosed as a majority of new diabetes diagnoses occur in adults between the ages of 45 and 64. This makes it difficult to track the symptoms of diabetes because they appear over time and can overlap with common signs of aging. According to Susan M. De Abate, a certified diabetes educator, "People have dry skin or they use the bathroom a lot [when they are older]. It's hard to tell which is which." This is why it's important to be aware of the signs and symptoms of diabetes and inform your doctor of any changes in your health.
Keep in mind that some symptoms of undiagnosed diabetes can also overlap with side effects of certain medications. For instance, if you're prescribed a medication that causes you to urinate more, you may think that your increased urination is only from the medication whereas it could also be a sign of diabetes.
Some patients get so used to living with certain symptoms such as fatigue or increased urination that it doesn't occur to them that they may have an underlying health problem. Regardless of the circumstances, if you're experiencing any symptoms of diabetes, be sure to tell your doctor so they can properly screen you for this disease.
3. Unaware of Risk Factors
Believe it or not, one of the main reasons that diabetes often goes undiagnosed is that a lot of people aren't aware of their personal risk for developing diabetes based on a variety of factors that can increase your chances of developing diabetes:
You have prediabetes
You are overweight
You are 45 or older
You take part in physical activity less than three times a week
You have an immediate relative (parent or sibling) with diabetes
You have had gestational diabetes or given birth to a baby who weighed more than 9 pounds
You have polycystic ovary syndrome
You have high blood pressure, low HDL ("good") cholesterol, or high triglyceride levels
You are African American, Hispanic/Latino American, American Indian, Asian American, or Alaska Native
A qualified healthcare provider can help you determine if you have prediabetes or diabetes by performing a series of tests including:
A1c — This test measures your average blood sugar over the past two to three months. An A1c of 5.7 percent to 6.4 percent means that you have prediabetes and are at high risk for the development of diabetes. Diabetes is diagnosed when the A1c is 6.5 percent or higher.
Fasting Plasma Glucose (FPG) — This test measures your blood sugar after you've gone at least eight hours without eating or drinking anything other than water. A result of 100 or higher indicates that you have prediabetes. A result of 126 or higher indicates that you have diabetes.
Oral Glucose Tolerance Test (OGTT) – This test compares your blood sugar levels before and two hours after drinking a special sweet beverage. A result of 140 or higher indicates that you have prediabetes. A result of 200 or higher indicates that you have diabetes.
For adults without symptoms of diabetes or other risk factors, the American Diabetes Association (ADA) advises testing your blood sugar or A1c at age 45. If your results are normal, you should be tested at least every three years after that.
4. Minimal Access to Healthcare
Another reason diabetes often goes undiagnosed is due to insufficient access to healthcare. A recent study revealed that based on health insurance coverage, hospitalization, income, education, and frequency of health care visits, those who had no health care encounters in the past year were associated with an almost six-fold increase in the odds of undiagnosed diabetes.
Unfortunately, many individuals who are made aware of their borderline diabetes aren't able to regularly follow up with a healthcare professional due to minimal access to healthcare. These undiagnosed or borderline cases of diabetes often develop into Type 2 diabetes.
What You Can Do
If you have been diagnosed with diabetes — or if you believe that you are suffering symptoms of undiagnosed diabetes — there are lifestyle changes you can make now to help you minimize the effects of diabetes including:
Regularly testing your blood sugar levels at home to help manage your glucose levels.
Seeing a registered dietitian or a diabetes nurse to learn how to manage your diabetes.
Reviewing your blood sugar records with your physician every visit.
Paying close attention to how foods affect your blood sugars, especially carbohydrates.
Avoiding foods high in salt and sugar, processed and fast foods, as well as saturated and trans fats.
Eating small portions of balanced meals of lean protein, vegetables, fruits, and foods high in fiber.
Drinking plenty of unsweetened liquids throughout the day.
Getting plenty of regular exercise to reduce blood sugar levels and maintain a healthy weight.
Thinking proactively, stay informed, monitor your health, and connect with support groups.
---
You may also enjoy reading Adrenal Fatigue: Diagnosing the Burnout Epidemic, by Aviva Romm, M.D.