By working with children's imaginations, teaching mindfulness in the classroom can help students navigate their inner feelings and experience
____
Teaching mindfulness to kids, at face value, actually sounds ridiculous. Trust me, I hear it all the time. But while images of a lotus-legged four year-old 'OM-ing' quietly may come to mind, that's never been quite what I am trying to do in my work as a therapist, parent coach, and consultant to a number of different schools.
But what I have found is that we can still share elements of mindfulness with kids of all ages and encourage them to use those skills on their own.
Just as we don't start in kindergarten with calculus, but instead we start with 1 + 1, we can begin by teaching elements of mindfulness like paying attention, being in the here and now, and acceptance and curiosity. As many a skilled parent or child professional knows, just through the magic of play and imagination, you can help to lengthen children's attention span and ability to be still.
A playful way for kids to learn mindfulness — and their ABCs — is to use ALPHABREATHS to find breaths that best fit how they'd like to feel. Here are 5 opportunities for kids and adults to practice:
1. To Gain Confidence
For example: Getting ready to try something new, take a test, participate in a sporting event
'D' Dolphin breath: Breathe in as you lift your arms up high. Breathe out as you imagine diving into the ocean.
2. To Manage Stress & Frustration
For example: When something is not going your way, or you are feeling nervous anticipation, or anxiety
'E' Elevator breath: As you breathe in, imagine your breath going all the way up to the top floor of your belly. As you breathe out, imagine it going all the way down to the bottom. You can even count floors as you breathe.
3. To Feel Focused
For example: For school & task-related activities (homework, studying for a test, quiet reading) and transitioning between activities
'O' Oatmeal breath: Breathe in and imagine you are smelling a bowl of hot oatmeal. Then breathe out like you are blowing on your oatmeal to cool it off.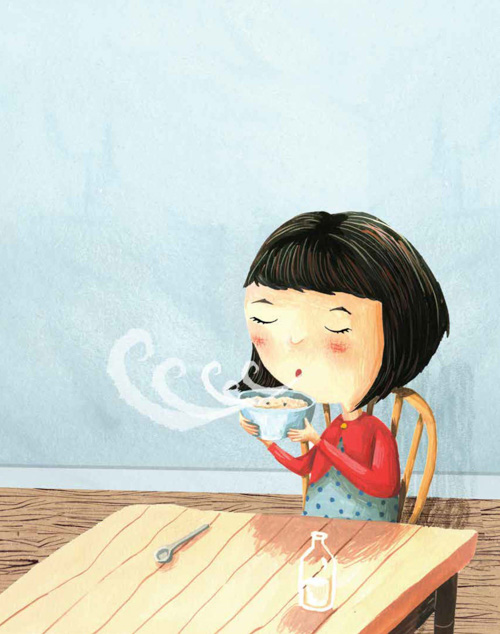 4. To Feel Better When Feeling Down
For example:When someone hurts your feelings, something did not go the way you hoped — this is a chance to practice self-compassion
'T' Teddy Bear breath: Lay down on your back and put a teddy bear on your tummy. As you breathe in and out, watch your teddy bear go up and down.
5. To Feel Quiet & Calm
For example: Transitioning out of a busy activity into quiet time, like getting ready for bed
'R' Redwood breath: Breathe in and reach your arms up high like branches extending to the sky. Breathe out and imagine you have roots growing from your feet deep into the earth.
—
---
You may also enjoy reading Messages Beyond Movement: Partner Yoga for Kids, by Mariam Gates