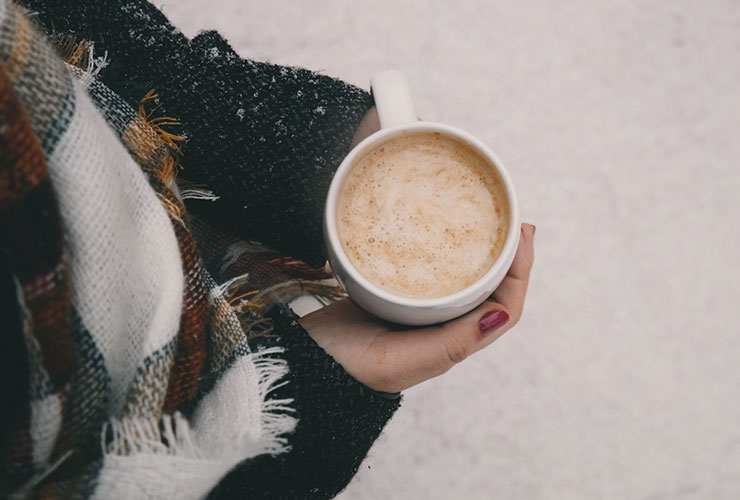 Even in the throes of a cold, snowy winter, it is possible, necessary and potentially even more rewarding to have a self-care practice.
—
Sometimes it seems that the world of wellness, at least on most social media accounts, is centered around sunshine, bright fruits and veggies, tan skin and freckled faces. When I scroll through my feed, I quickly notice how many wellness queens live in warm, beachy places. And in these places, it seems pretty easy to head to a market and pick up fresh, juicy mangos and other organic, non-GMO delicacies.
Putting aside the socio-economic stigmas surrounding and permeating the wellness and self-care movements, the general message, at least to me, is that to be 'well' and happy, one should be pretty much anywhere but New England in the winter.
The truth is, I've always felt a little displaced, as if I was supposed to be a California girl. My mom even wanted to name me Summer right up until the moments before my birth. Perhaps that's why I feel so connected to the sunny, warm, social media wellness world.
But for now, this is what self-care and wellness look like in March from a small town in Connecticut.
I'm looking out my window as the white sunlight hits. This forces my eyes to squeeze and my crow's feet to tighten and deepen. Though harsh, the sun is a welcome respite from the falling snow that layered the canopy of our lawn for what felt like hours yesterday. It's cold and blustery today, the day after the snow fall, and so like a mirror, the whiteness reflects all the shadows of the naked limbs swaying above the ground.
Today at midday, I concocted an earl grey tea by adding healthy fats, like almond butter and homemade macadamia nut milk, because those are things that soothe the soul on a frigid day, especially as the sun starts to set early yet again. It was so cold this morning in my bedroom that my yoga mat felt almost slippery as I bent and balanced my body over our creaky wood floors.
Frothy lattes and yoga might look and feel a little different in our corner of the wellness world, but they still soothe the soul…
Maybe even more than they would on a sunny day looking out on the Pacific.
After recently reading The Little Book of Hygee, I now enjoy blending the philosophies of self-care, wellness and the cozy ideals of hygee as I make my way, and help my family make our way, one step closer to spring.
We don't have a fireplace, which is almost sacrosanct in New England. Instead, this winter I bought several battery-operated candles and placed them all over our house to make cozy nooks for when it's dark by 4:30 or so. Another step I took this year was my investment in both a salt lamp and an essential oils diffuser — two wonderful ways to add hygee and feel that much more joyful and well as the winter plods on.
As I give intentional thought to my health and self-care journey, as I add a little more vitamin D to my diet this winter, I've contemplated how important it is to feel connected to yourself and your place in order to feel like you, too, deserve access to the same tricks of the trade that the California wellness queens enjoy.
And nothing limits you more than your mindset.
We might be enduring this wintery season here in New England, but that doesn't mean we can't feel like sunshine inside ourselves and inside our homes. Aside from my oils and candles, my salt lamps and my extra vitamin D, I also make sure to move my body for at least thirty minutes a day. I've found more ways to be creative in the kitchen and infuse our home with rich, appetizing aromas by cooking savory stews. I've positioned my desk so that when I'm working, the bright, sometimes harsh but forgivable, sun pours in through the window. Long winter walks listening to a story or podcast also help ease the stresses of the season. I'm doing my best to eliminate toxic beauty and cleaning products while reducing waste in our home.
Self-care might be more closely aligned with warmth in the winter months of New England, but it is still possible. Despite my conditions, by embracing creativity and positivity, I've definitely discovered deep belonging, beyond the tiny squares of Instagram.
You see, it's really all in the business of choosing — and I choose to embrace self-care as I step into my hot bath each afternoon.
I might not be dipping my toes in the Pacific, but it certainly feels good to prioritize and to take care of myself each and every day no matter the season or the place.
---
You may also enjoy reading Tips for Creating a Mindful Space at Home by British Solomon